Provides immediate and steady impedance upon skin contact.
See How our Prices Compare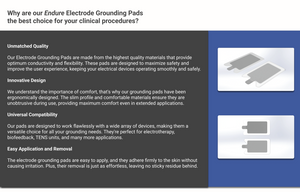 Grounding pads
Exactly what we needed at a great price
Not sticky enough
Great price but they don't stay on the skin well. I always make sure it's applied to clean skin and located in a place that is secure & level.
Custom content
Use this advanced section to build your own layouts or to add custom HTML, Liquid, or scripts.